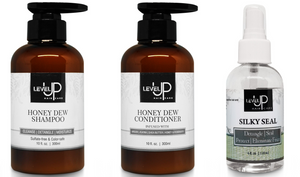 Bundle and save with the Level Up Silver Package which includes a Honey Dew Shampoo, Honey Dew Conditioner, and Silky Seal Protector.
Our Honey Dew Shampoo is a sulfate-free, color-safe cleanser designed to moisturize and detangle the hair without stripping natural oils. Honey Dew Conditioner seals in hydration and fortifies the hair shaft to combat moisture loss, restore youthfulness, prevent damage, and promote growth. Silky Seal Protector is a lightweight anti-frizz mist designed to seal cuticles, replenish shine, detangle strands, and improve manageability. Treat your hair to a total restoration with our premium haircare products.
Suitable for Human Hair Wigs, Weaves, and Extensions.
We provide the best haircare products at an affordable price with a 100% customer satisfaction guarantee.